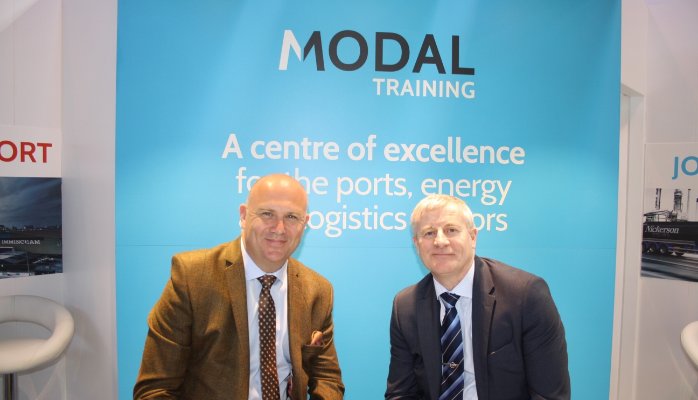 DriverMetrics' Driver Safety Programme Selected by UK's 1st Multimodal Logistics Training Centre
Today at DriverMetrics we're delighted to announce our partnership with Modal Training, the first organisation in the UK to offer integrated, multimodal logistics training.
The unique partnership utilises our Driver Risk Index assessment, enabling Modal Training to help businesses analyse the profile of their drivers and their behaviour using software to identify areas to make them safer or more efficient on the road.
The Driver Risk Index remains by far the most extensively validated behavioural risk assessment available anywhere in the world, having been peer reviewed in over 75 academic papers, and counting. It is an all-in-one fleet risk management platform – not only does it identify drivers that possess the behavioural tendencies that cause crashes, but it enables users to review the results of drivers' assessments at the press of a button to gain actionable driver risk reduction insights.
Businesses can then utilise our scientifically-validated suite of behavioural change interventions, which include e-learning, workshops and coaching, with Modal Training arranging training provision. This will be delivered by local partners through workshops or one-to-one sessions. giving companies peace of mind that their drivers are competent, safe and have great efficiency awareness, impacting on operational costs and insurance premiums.
Patrick Henry, Managing Director of Modal Training (pictured above, right), said:
"The shortage of skilled drivers in the UK is well reported and we wanted to provide a solution. Our offer will help businesses assess people at an early stage, as part of their recruitment process, to ensure our industry has a supply of competent drivers. It will also help to identify any skills shortfalls in their current workforce, to ensure the drivers they have are operating to the highest standards.
"We are looking forward to working with DriverMetrics to deliver this analysis and with Carmichael Training & Consultancy to offer driver training."
Richard Hill, Commercial Director at DriverMetrics (pictured above, left), commented:
"Driver behaviour is a contributing factor in around 95% of road incidents, but we have the knowledge, expertise and software to transform this, enabling businesses to make their drivers safer. With the bottom line high on the agenda for many companies, our programme can also bring benefits in terms of efficiency awareness, ensuring drivers are operating as effectively as possible."
Ian Carmichael, Managing Director at Hull-based Carmichael Training & Consultancy, a company that provides logistics training to both haulage companies and individual drivers, strongly endorses the DriverMetrics programme and is delighted it will be available in the Humber region.
Ian commented:
"The partnership between DriverMetrics and Modal Training will be of great benefits to businesses operating in our sector, and will make professional drivers the very best they can be. Once driver behaviour has been analysed using the Driver Risk Index, companies will be able to take advantage of a variety of tailored solutions to businesses who want to build the skills of their drivers, to make their transport operations safer and efficient."
Jointly funded by the Grimsby Institute and the Humber LEP, as part of the Humber Growth Deal, Modal Training will be located in purpose-designed 5,696m2 facilities on Kings Road in Immingham, and is set to open in September 2016.
Its £7million centre of excellence for the ports, energy and logistics sectors will be equipped with state-of-the-art simulators for training maritime crew, truck and crane drivers, delivering realistic training, replicating the working environment, in a wide range of settings. Facilities will include extensive warehousing, engineering and rail safety teaching facilities, and the UK's only Freight Forwarding Academy.